As the face of River City TV, Mark Aron keeps citizens in the know about the happenings in Danville. Aron takes great pride in being a voice for our community. "Everybody has a story to tell. I'm fortunate enough to have a platform to share those positive stories. No matter who you are or where you come from, you can make a difference in this community. Being able to share the way people are changing the community makes my job exciting," Aron says. "A good example is Constance Covington at the Cardinal Village Youth Center, and the work she is doing with the city's youth. Constance welcomed the Danville Police Department to do a walkthrough of the neighborhood for a meet-and-great and officers helped to tutor the kids."
That's just one of the many positive stories Aron has shared with the city through his work at River City TV.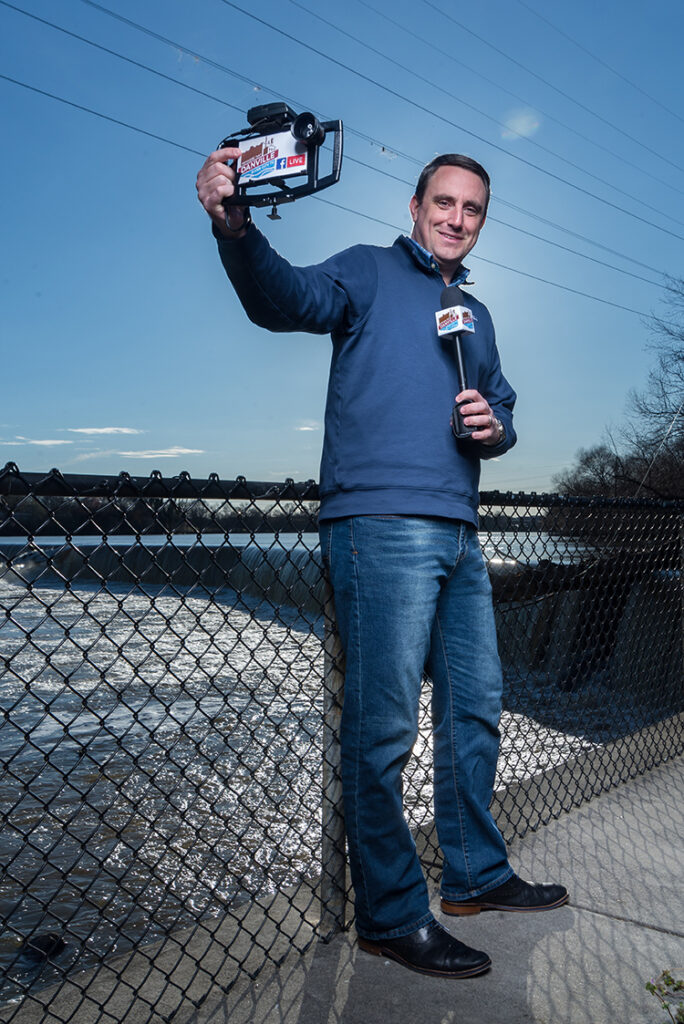 via Jameel Austin
Aron has a long history with the city he calls home. He was born and raised in Danville and is a product of the Danville Public School System. "I have many fond memories of my childhood in Danville — little league baseball, being picked up after school at GLH Johnson and taken to the old YMCA," Aron says. One of his fondest memories is meeting his wife, Kristen, in junior high at Bonner. After graduating from George Washington High, Aron attended Virginia Tech while Kristen wasn't far away at Radford.
Aron learned videography at VTTV while pursuing a mass communications degree. He dove into the world of news media after graduation in May 2000. "I was fortunate enough to receive a job offer at a Fox affiliate in Myrtle Beach, SC. I was a news reporter and a videographer, kind of a one-man band." After about a year, Aron was serving as the producer of the 10 o'clock news and as a sports anchor when he was informed the affiliate was no longer going to produce news. "Here I was, the first job out of school and thinking oh my goodness what are we going to do?" He started with the place he interned at while in college.
Aron interned locally for two years at WSET under Jack Garrett who had taken time away from WBTM and WAKG to report the news for the Danville market. Garrett learned early on that Aron was a perfect fit in news media. "Mark's a natural in front of and behind the camera. He went out solo, on his first day as an intern, and came back with footage and interviews from a house fire," Garrett adds.
Aron called Brandon Pickett, who was anchoring the news at WSET and asked if there was anything available in Danville. There was a position opening for a videographer. In May 2001, Aron and his wife came home. "I tell that story to the young people I talk to now. I do a lot with the Southern Virginia Youth Expo. Thousands of kids come through the River City TV booth, and I tell them internship is the way to go."
Aron worked for ABC for four years. In 2004, his son, Dylan, was born. "Having a child changes your focus on things. It puts your priorities in perspective," Aron says. The day-to-day of the news business can be exhausting. "I was working long hours. I would leave the house at 9am and wouldn't know when I would be back home."
In late summer of 2005, a job opened for a multimedia manager for the city of Danville. After encouraging words from his mother, Aron applied for the job. "At the time, Jerry Gwaltney was the city manager. He came from Alabama where he utilized a government access channel to keep citizens informed. Jerry saw the importance of having that conduit to the public for government access." Aron started producing a local weekly show Gwaltney had that kept residents informed about the city. Not long after, Aron took over the show and began expanding the programming. "This was before social media. Before River City TV. We were on TV20. Now, 13 years later, we are one of the most comprehensive government access channels in Virginia." In 2017, The Virginia Municipal League recognized Danville with an Innovation Award in Communications for the work River City TV has accomplished through its facebook page and other social media channels.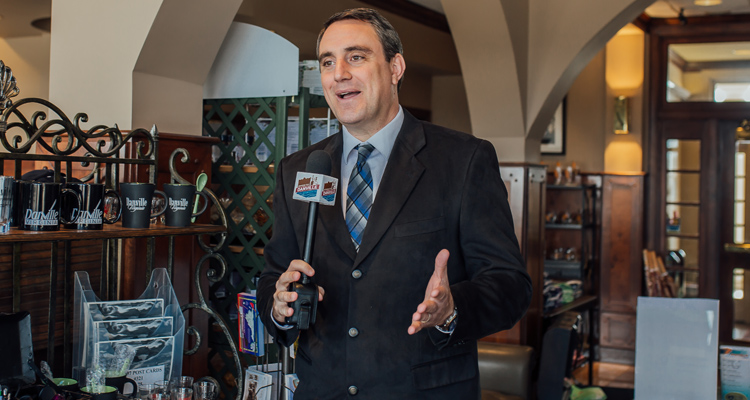 via Brooke Klauss
River City TV's success comes from Aron's constant exploring of creative ways to deliver content to the public, and social media plays a huge role in that. "I love the aspect of social media. Sometimes it's good and sometimes it's bad, but I'll say 95 percent of everything we post of social media is positively received." One of the most effective ways to reach people is through video on facebook. "A few years ago, I saw more friends and families utilizing facebook. I read about the upward trend of video and began to implement them more on the network," Aron says. Video alone will not increase viewership. There needs to be something exciting, something beneficial to keep followers engaged. Last winter, Aron began a ride-along program with public works during inclement weather to give live up-to-date road conditions. The videos were a hit with viewers. Post reads reached 110,000.
"Fly Over Friday" (overhead drone videos) was another creative way, Aron reached viewers. "It shows a side Danville not seen too often. People enjoy viewing the city from a different angle." Aron also works with the police department and lifesaving crew to document accidents. "I go live for the main reason of asking people to avoid the area of the accident. The first responders need all the space they can get, especially with extractions. Letting people know areas to avoid saves travelers time as well. It helps everyone."
Aron tackles a lot of behind-the-scenes projects as the multimedia manager at River City TV that are valuable to the city. "Viewers don't really see the 'in-house' things. I've worked with community development, creating videos on the permitting process—how to apply for a permit, etc." Aron also works with the police department to ramp up recruiting.
When he's not covering all things Danville, Aron is enjoying the city's link to nature. "I love the outdoors. Spending down time with my family is the top priority. We love the Riverwalk and the bike share program." The Arons mapped a city bike ride which they dubbed the "Aron City Loop." It spans about 12 miles and hits prime nature spots like Ballou Park. Aron also loves to coach baseball and is a dancing dad with his daughter, Madison, at the Meredith Gravely School of Dance.
Mark Aron is a valuable voice for the city he loves. Jack Garrett was spot-on when he said, "He'd be working in a major market if it weren't for his family ties to the city." Danville is lucky to have him.