This is the story of the guy from Pittsylvania County with 100 NY Times Bestselling Books.
It was the summer of 2006 and I was driving down a Caswell County road to meet the man who would turn out to be my hero. I was lost and late and sweating when I passed the state trooper going 41 miles per hour over the speed limit. The ticket was painfully expensive. Yet, when I finally walked into Chuck Adams's eclectic group of local writers, I was still a man who thought he knew the secret to the world. In that room, in 90 minutes, I learned I had no clue about the person I was; much less knew anything about the world.
"I don't live on a street," Chuck Adams said.
It was 1965, and the lady from the draft board looked at him with a blankness reserved for the jokesters and hucksters and out-of-style hipsters. "I need your street address for your draft card," she said.
"I live on Route 640 in Riceville, Virginia which is five miles from the Java Post Office."
The lady sighed deeply and took a long, slow, trying-to-be patient breath.
Chuck thought back to his years growing up in rural Pittsylvania County (when he was still known as Charles; the Chuck came later, an effort to avoid being called Charlie). There was no stripe down the road and no neighborhood kids to play with. There was sun and stars and nature and everything a kid growing up in the rural south could ever know. He loved it, the beauty of the countryside, the slowness, the simplicity, yet he knew he was different than the other kids and sensed then it was not going to be enough for him. He spent much of his time in his imagination thinking about all the fascinating places he saw on television and read about in books and magazines. By himself, he was never lonely. His mind absorbed everything and he seemed to learn things much more easily than most. He filled it with words from his mother's library.
His mother was a great reader. Her collection mixed the Bronte sisters and Charles Dickens with then-popular writers like Daphne du Maurier and Edna Ferber. Chuck read them all plus the eight or ten books he could pull from the bookmobile that came to his father's country store once a month.
"Thank God for the bookmobile," Chuck said.
"Huh?" the lady from the draft board said, puzzled and irritated but mostly just ready to move on to the next kid in line.
"I mean, that's my address."
And it was, at least until he graduated in a class of eighteen from Spring Garden High School and moved on to Duke University where he breezed through college and law school. With his degrees in hand, Chuck followed his brother's footsteps to New York City.

"I went to New York because of the fact that it was there. I knew an entire other world was there and I decided I had to be a part of it," Chuck says. So he took a job on Wall Street as a lawyer and quickly figured out that he had spent all that time in school to be something that he wasn't. "When you have a job and you wake up every day and think, can I be sick today, you need a new job." Initially, though, his nights were even worse. With no friends to speak of, he spent evenings alone questioning his decisions. Eight million people in the city like bees in a hive and the nights alone are the loneliest moments on earth. "I knew I was going to make it when I finally made friends. New York is the best place in the world to find yourself, but it doesn't happen overnight. You grow up no matter your age."
After receiving an unexpected 1-Y Army classification because of a minor medical issue (meaning no military service despite having already agreed to join the Navy for a four-year stint), Chuck made the conscious and well thought out decision to start his career life all over again. "I felt like I had four years of my life given back to me." He walked away from law and took an entry level job in book publishing making $87 a week. "Publishing is the worst paying business in the world." It wasn't too shabby, though, considering the rent for his Manhattan apartment was only $98 a month, even if the halls smelled like cabbage.
He flirted with making the move up the corporate ladder when the publishing house's parent company CBS pulled him into the management training program, eventually offering him a television production job. He faced the crossroads of his childhood ambitions. Television or books, his two favorite things, and the decision would shape the rest of his life.
Chuck chose books and began an illustrious career editing for celebrities and bestselling authors. "I quickly got a reputation as being able to work with people who were hard to deal with. I took on the authors that no one else wanted to work with."
One of those early authors was General William Westmoreland who commanded U.S. military operations in the Vietnam War from 1964 to 1968 including during the infamous Tet Offensive. "He had a book deal with us and nobody in our company wanted to work with him. I steadfastly opposed the war mainly because I didn't want to die in the jungle. But, I volunteered to take on the project and it was not a bad experience."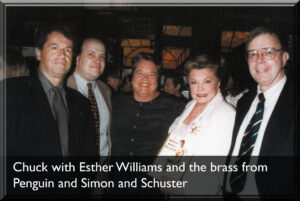 Chuck later got to work with other celebrities such as Ronald Reagan, Elizabeth Taylor, Esther Williams, Tab Hunter, Cher, Charlton Heston, Faye Dunaway, Kitty Dukakis, Neil Simon, and Sarah Ferguson. Many of their books went on to become NY Times bestsellers. "Celebrities are guarded and it's difficult to gain their trust. So, I developed some very useful tools. For example, the more someone screamed at me, the calmer I got. It tended to put out the fire."
With his reputation cemented, he started long-term relationships with established writers. He edited dozens of books, many reaching top spots on the bestseller lists, for Mary Higgins Clark and Jackie Collins, each the preeminent author in their genre. Chuck started relationships and worked with a diverse group of other bestselling writers including Sandra Brown, Susan Cheever, Johnny Evison, James Lee Burke, Ellen Gilchrist, Joe McGinniss, Kinky Friedman, Barbara Delinsky, Charles Portis, Scott Eyman, Brock Clarke, and Alan Shapiro. Over 100 of the books he edited became NY Times bestsellers.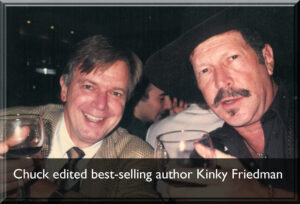 Chuck spent 37 years in New York City, living the life of a New Yorker. He grew to fit in. He partied at Studio 54 and rolled with celebrities. He was comfortable with who he was and lived a life straight from a novel. And then the call came offering him the Executive Editor position at Algonquin Books of Chapel Hill. The publishing house had a great reputation for the exceptional books it released, and as an arm of the larger New York-based Workman Publishing, also offered a significant amount of security. Accepting the job would mean moving back to the area where he grew up and went to college. He gladly took the job and settled in Chapel Hill.
Over the next few years, he had some of the biggest successes of his career. He took in a small book by a virtually unknown writer named Sara Gruen that had been rejected by other publishers. He edited the manuscript and when the book was released, Water for Elephants became a world-wide phenomenon, eventually selling over five-million copies and spawning a big deal Hollywood movie. In the wake of the biggest success of his career, he took on another small book from a first-time novelist. In 2009, Robert Goolrick's A Reliable Wife became Chuck's second #1 book in two years. The results are even more amazing considering that Algonquin only publishes about twenty books a year and these were only the second and third NY Times #1 Bestsellers of the company's nearly thirty-year existence (the first having been an Oprah's Book Club pick).
"The process of finding an exciting writer I can work with, and maybe help develop a little bit, that's what keeps me going," Chuck says. "It's always the discovery, always the challenge of finding something new, somebody I can introduce to readers. I look for someone I can help polish and prepare them for years and years of writing ahead."
Over a year ago, I approached Chuck about turning his wealth of insights on writing into a book. I'd known him for about six or seven years at the time and felt pretty comfortable with him but in the minutes before tossing the idea at him, I felt like a .200 hitter batting in the World Series with the championship on the line. Just before I was about to ask him, he smiled softly and leaned in a little, and all of my anxiety went away. Over the next year, together we wrote BESTSELLER – How Talented Writers Become Bestselling Authors. In August, we are taking the unusual step of releasing the book on a crowdsourcing site (such as Indiegogo.com or Kickstarter.com) before it is released in 2014 with a traditional publisher. You can help support us by going to ImABestseller.com and joining us in this indie publishing adventure.