"There is only one thing the photograph must contain, the humanity of the moment." -Robert Frank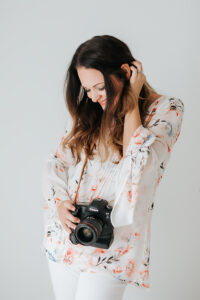 Call me soul-catcher, lover of all things in beautiful light, a time preservationist; call me crazy. Crazy for art and memories and people.
When I bought my first hobby camera, I never intended to be a photographer. I was an English teacher, after all—a lover of metaphors, motifs, and memoirs. But the time came when I had a bachelor's and master's degree in one hand and a camera in the other with an overwhelming decision to make. And then it happened—just like that. I became a photographer. I never dreamed a simple obsession with light and memories would lead to becoming an award-winning photographer featured by People Magazine, Lemonade and Lenses, Shoot and Share International Contest and more. It has been an incredibly humbling experience. When I started my business, though, I had to set very strict guidelines for myself. I said to myself, "Mariah, if you're going to do this thing, you're going to be an artist and photograph 'the humanity of the moment' rather than traditional posed portraiture." And that is what happened—just like that, I became a lifestyle photographer.
Our time in this world is fleeting, changing, ephemeral, and aside from jobs, responsibilities, and materialism, it's the memories of life that drive humanity forward; it's the moment when your child wraps his arms around your neck and yells, "Mama," or when he starts to cross his arms and say "no," and through that defiance, you just can't help but smile. It's the way your child runs, the way they cry, the way parents look at one another after struggling to get ready and get the kids out the door, the way you squeeze your child's hand just a little tighter at the county fair. It's the little things.
Humanity's only way of preserving time and memories used to be painting and writing until a handy little thing happened—the camera—the soul-catcher, if you will. And it was common to precisely plan every move, to plan one hand here, tilt the head there, dress to impress, and stare directly into the camera.
I am in no way bashing traditional portraiture. In my teaching days, I never missed an opportunity to teach of Walt Whitman and his love, not only for poetry, but for photographs as well. I learned and taught of the endless hours it took to transport a camera and set up a "lifestyle" scene to take a small series of photos and the intricate details that had to be thought-out months ahead of time. I have studied the first room-sized camera, the first photograph, the parts of my own antique cameras, and the incredible effort it took to photograph outside of a traditional studio. It's inspiring and so respectable, but in today's world, we have the advantage of taking raw "portraits" of our own lives in motion. The creative options are endless. There's a new guy in the world of photography—lifestyle photography—or what I like to call "chaos turned into art."
Many of my clients will tell you I use this phrase often when reassuring them that everything is going to be fine that I will get the shots. Kids are kids. Life is life. Messes happen. Tears happen. And the purpose of lifestyle photography is to preserve the beautiful chaos for a brief moment and turn it into art with a camera, a little light, and a lot of love. It's this type of photography that not only drives my passion, but drives the world of photography everywhere—in magazines, newspapers, television—so why not document our own lives this way? There is still a certain level of planning and posing, and I always get the "looking at the camera" shots too, but my heart remains with the playful laughter, kisses, tickle fights and even the tears that are an equal part of our emotions. These are the moments that make us human. These are the true memoirs of our lives.