Who is Max Gasparini?
Born in Italy in 1970, Max Gasparini is a self-taught artist who fell in love with the craft at a young age. "The reasons for my paintings are, as Italian novelist Leonardo Sciascia said, 'a simple story,'" Gasparini says. "When I was a child, and I was in a storm of emotions, I ended up in front of the famous painting, La Tempesta, by Giorgione. Was I that child naked? I don't know certainly that was my storm."
Gasparini's work has been described as coming from a place of "dreams and hope, and disappointments and pain." For medium, Gasparini works with recycled canvas, sheet metal, wood, and linoleum as bases. He finds inspiration in the history of recycled materials and gives them a new life through the stories he paints. "I paint in black and white on old sheets, cards, and metal sheets wrinkled by time. Seeking a look, I abandon myself to the gestures. I accept the dripping color and contemplate the scraps lying on the floor in my studio, as no one else will see that, but it is part of my job. As in the stories of ancient mythologies, much remains unsaid within and beyond the symbol," Gasparini adds.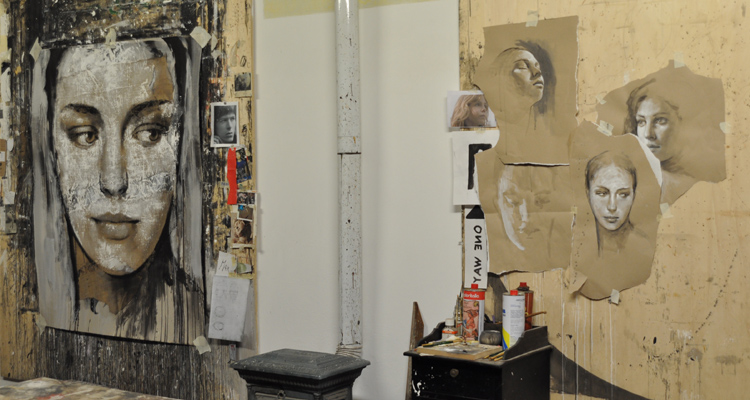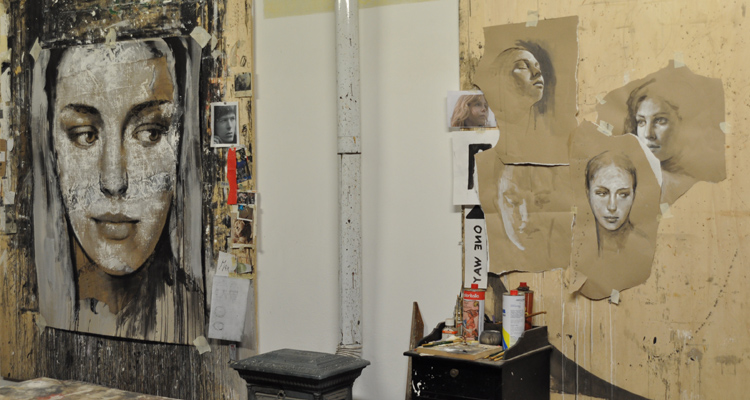 A Danville Connection
When Rick Barker was remodeling his office at 554 Craghead Street, he juggled many design concepts. Since Barker is an avid art enthusiast, many design elements involved art. "I'm a collector, art is personal to me," Barker adds. During the process, interior designer, Melinda Dickie approached Barker with a specific painting she felt he should consider. "It was a great painting of a very bold woman's face. It was immediately appealing on a personal level, but not professional. It was a bit too sensual for the office. " Barker kept the photo even though it didn't fit the office concept. The painting was by Max Gasparini.
Dickie forwarded Barker a video that detailed Gasparini's painting process. "I found it to be very powerful watching Max create 'Yours. The video is set to a beautiful soundtrack. Max's technique was difficult and original. The style defines an original concept which is something rarely seen."
Two years passed, and as Barker was preparing for a honeymoon in Venice with his wife, Kristen, Gasparini's paintings and the video came to mind. "A few months before the trip I searched for a gallery showing Max's work. Instead, I found out that he lived in Palosco which wasn't that fair from Venice. I had the idea that maybe we could meet. I sent an email, and then a follow-up email with no response." About a month later, Barker received a response from Gasparini's wife, Simona. Max doesn't speak English, but she offered to help. "I told Simona about the impact the video had on me and that we would be in Venice and would like to meet Max." Travel arrangements were made to spend the day with Max.
"We took a train to Palosco and met Max and Simona at the station. Palosco is backdropped with stunning Italian countryside." After lunch Gasparini invited the Barkers to his home. "Rick showed me the video before we left, so the meeting was very emotional to me," Kristen says. Gasparini's studio is a private space, but he allowed the Barkers access. "When we entered the studio, I could feel that we were in a special place. The creativity that emanated from the studio was not organized. Max had stacks of painting with no reverence, he just flipped through them, but I could tell what he respected by what was in his space. The floors were marked with spills and drips. It was truly Max's sanctuary."
The language barrier soon became smaller when Barker noticed words written on the walls near the ceiling. "At first, I thought it was poetry. I pointed to the words and Max smiled and said, 'Pink Floyd.' He took me to his boombox and showed me his painting soundtrack which included Pink Floyd and David Bowie," Barker says. The moment proved musical and art to universal no matter the language differences.
Barker learned Gasparini's painting process. "It starts with a photo. Max makes a sketch, tapes it to the wall, and then makes a larger sketch. His paintings are powerful and large. Some take up an entire wall." Barker had an idea during the meeting to have Gasparini paint Kristen. "It's a great one-of-a-kind gift for my wife."
Kristen found a kinship with Simona as well. "Simona and I share many similarities and our personalities mesh well. She has lots of energy just like me."
Barker labels the meeting as a "King Tut" moment where you are fortunate enough to take a peak inside the sacred space of an artist. A few days later Gasparini and his wife joined the Barkers in Venice for lunch. Kristen, being the president of the Danville Museum of Fine Arts and History, pitched the idea of Gasparini showcasing his work at the museum. Gasparini accepted. "It's really amazing. We are two couples in different parts of the world with a shared willingness and openness for the show."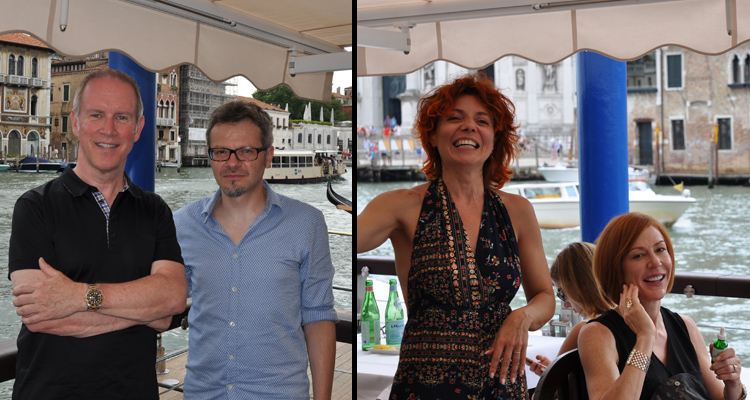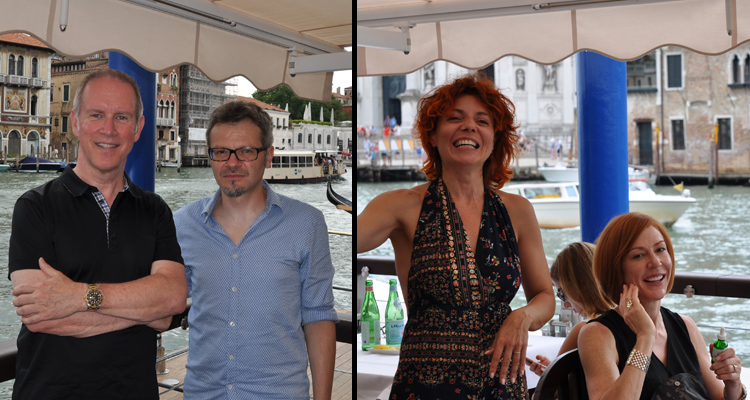 Something Special for Danville
The show at the Danville Museum of Fine Arts and History marks only the second time, Gasparini's work has been shown in the United States. The first was in New York. "This is important for the museum," Barker says. "It's symbolic for several reasons. The museum is a thirty-plus-year-old institution that is rebounding under new younger and diverse leadership. Our community deserves a great museum. Danville is at the forefront of several categories for communities with a population base of 40,000 to 50,000. Art should be one of these categories. Our artists are just as good as artists in other communities. We don't celebrate them enough. A show of an international artist with a considerable reputation will bring attention to our museum."
Kristen adds, "This show is an example of the capacity our museum has for what the future could hold. We want to expand the art component. We want to be part of the conversation. We want to expose the community to arts and culture. This type of diversity is vital to becoming more relevant in the community. The museum has a strong board and leadership including our new executive director, Kathy Milam. This is just the beginning."
"This is something special," Barker adds. "People want quality. They will come if we give them a good reason to come. The city is setting its sights high, and recent projects, of high quality, are working. I firmly believe people will travel here to see great art."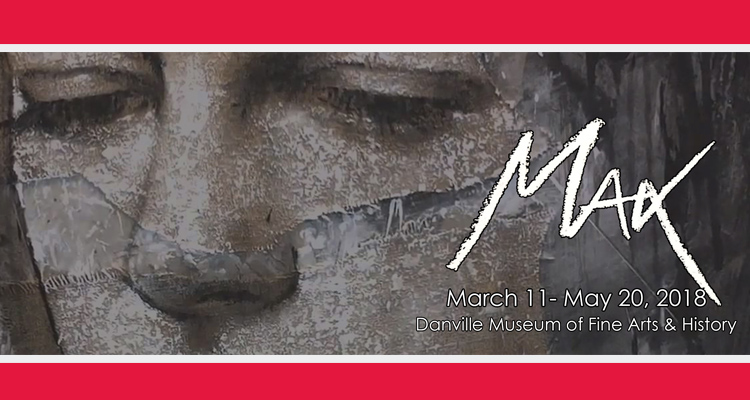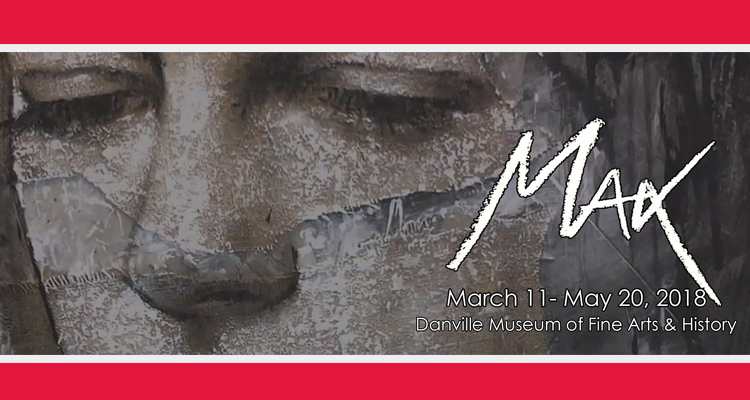 The Danville Museum of Fine Arts and History would like to acknowledge and thank the following sponsors for helping to make the Max Gasparini Show possible:
Supply Resources, Rick Barker Properties, VA Commission for the Arts/National Endowment for the Arts, Helen S. and Charles G. Patterson, Jr. Charitable Foundation Trust, Dr. and Mrs. Joseph Carbone, Mr. and Mrs. Jack V. Thomson, II, Mr. and Mrs. Rick Barker, and Mr. and Mrs. W. Townes Lea, Jr.
The museum would also like to thank Averett art students Wenn Harold and Harper Scollo for their help with this project.