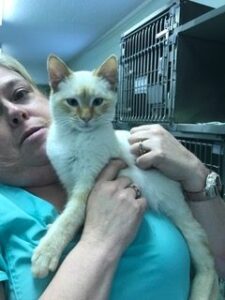 Simon is a five-month-old sealpoint little guy that came to us as a stray.
In 1983, I had moved back to Danville from living in Utah for four years. I moved into an apartment on West Main Street, and I was ready for a pet of my own. I decided since I worked full-time I would get a parakeet or other small animal. This was over 30 years ago and there were not a lot of rescue groups around, so I found some bunnies for sale.
Before I went home, I went to my parents' house to show them my new little friend. Billy, my mother's brother, came out of his room and looked. Billy was the sweetest human ever born into this world. Born with Down Syndrome, he had come to live with my parents when his parents passed away. Billy loved to watch old movies on television and amazed us with his knowledge of them. When he saw my new white rabbit, he said, "His name is Harvey," referring to the name of a rabbit in a Jimmy Stewart movie. I was not prepared to disappoint Billy, so I named my rabbit Harvey.
I absolutely fell in love with my Harvey. I could not wait to come home from work to let him out of his cage so he would hop around the apartment. I worried about him all day, afraid that he was bored and lonely. I bought many books about how to take care of rabbits. Harvey went with me to family dinners and parties.
After a few weeks, though, Harvey became sick. Despite two rounds of antibiotics, the veterinarian said nothing more could be done, and he helped Harvey go to heaven.
I learned a lot from my first experience with a pet of my own. Rabbits are wonderful creatures, but they have very specific physical and psychological needs. Before parents buy bunnies for Easter gifts, we urge them to fully research their needs. If a family is ready to offer a lifetime commitment to a rabbit, then we hope that they will visit the adoptable ones at a shelter.
If you would like to adopt Simon or any of the other wonderful shelter pets visit the Danville Area Human Society