Jonny Fairplay is no stranger to controversy. Since appearing on Survivor: Pearl Islands and creating, in host Jeff Probst's words, "the greatest lie ever told on Survivor," Fairplay has embraced the role of a heel, and in some instances literally wore the moniker across his chest like a badge of honor. But, the last year and a half has brought a change in one of the greatest villains of reality television.
After the 2016 Brightleaf Brewfest, he decided he wanted to become the "best Jonny Fairplay" he could be. Fairplay started with alcohol. "I drank for 32 years. I drank a lot. I don't feel as though I was an alcoholic, but I don't remember the last stretch of time that I didn't drink one or two beers. I like craft beers. I'd drink one beer, open another, and find it three-quarters full the next morning," Fairplay says. He decided to give it up for one week during the summer. "There was no pressure and no worries. I said, 'Let's do this.'" That week became a lifestyle change. Fairplay stopped drinking, stopped smoking, took up running, and goes to church every Sunday. He attended First Baptist Church (FBC) on the recommendation of John Carroll, a friend who Fairplay says looks like the lovechild of The Flash and WWE's Finn Bálor. "I gave it a shot and liked it. If you pay attention, there is a very good chance you will identify with something." Fairplay also began seeing a faith-based psychologist. "I am not ashamed to admit that. Finding someone to share your thoughts with is an important part of having healthy mindfulness." As far as having the answer for why he was able to change his lifestyle and stick to it, Fairplay says, "People ask me can I help them stop drinking or smoking, and I say no. I don't have the secrets. I just dove in and went full throttle, and it worked for me. I don't think I would be where I am today if I didn't go all in. I don't think I can have a beer once a week. I don't ask myself, 'Why can't I have a cigarette?' or 'Why can't I skip church?' I went all in, and now I'm a happy guy." But, there was a moment of hesitation. Fairplay continues, "I worried that people wouldn't invite me to do stuff. I was afraid that if you don't drink, you don't get the invite, but my invites have stayed the same. Not one person has come up to me and said, 'I miss the old Jonny Fairplay.'" He laughs.
The culmination of changes in his life, led Fairplay down an unfamiliar path of being "the good guy." "No matter what I do, there is always going to be people who hate my guts, but doing positive things is important to me." Last December, he participated in the Red-Nosed Rudolph Run and brought Christmas presents for underprivileged children. Seeing life through a different outlook has led Fairplay to volunteerism. "Volunteering makes me a better person," Fairplay adds. He has worked with the Big Brothers and Big Sisters and raised money for grass roots soccer.
Fairplay admits to having an addictive personality. Giving up alcohol and nicotine left him with a void he needed to fill. Fairplay chose to collect vinyl as his new and healthy, maybe not always on the wallet, addiction. "It's cool to find a really rare record. I enjoy finding good records. I've purchased 6 record collections and streamlined down from about 1000 records to 300, everything I own, I really like." In the digital age, the aura of an album is lost. "You lose a lot listening to music on your phone. Album artwork is cool. It's a remembrance of my childhood. When I play a record, I start with track one and don't skip a track. Vinyl forces you to really listen to the music."
Running is another addiction Fairplay has embraced. "I try to run 3 to 10 miles every day," he adds. Being such a music lover, one would assume Fairplay has a special running playlist, but he listens to podcasts while running. "I would be a much faster runner if I did listen to music. Listening to Bruce Prichard go on about Ric Flair circa 1986 isn't making me a faster running runner," Fairplay says with a laugh.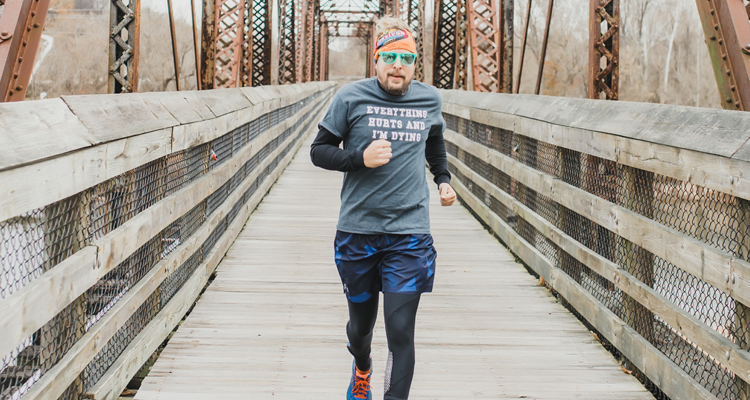 Speaking of podcasts, Fairplay recently started Survival of the Fairest with Conrad Thompson. The podcast is a weekly recap and dissection of the latest episode of Survivor. "We get a lot of listeners on Wednesday nights around midnight. The number one rule is the episode cannot be longer than an episode of Survivor (right around 43 minutes)," Fairplay adds.
As to what the future holds for Fairplay, he says, "I'm just going to continue down this new path." In 2018, he hopes to get involved with more fundraisers, find ways to help the schools, and spread the word of his church. "I want to encourage more people to visit FBC. I get angry when I see 60 people and the place will hold around a thousand. It's only one hour. I feel like when I leave I am a better person. I'm not trying to throw stones, but I imagine a lot people could be better people. I've had a bunch of friends come with me. They thought it wasn't for them, but they left feeling differently about the experience." Recently Fairplay was lay leader at FBC. "I don't really get nervous doing appearances, but that got me a little nervous. In the end, it was good times and good news."
Fairplay has bounced around from the West Coast to DC, but calls Danville his home. "As a realtor, I see how Danville is growing exponentially. I like that. I like being part of something on the ground floor." And for the fast-paced lifestyle, Fairplay says, "I wouldn't want to give up the memories, but I'm glad they are memories."
He smiles when asked about the thing his most proud of in life. "My daughters, Piper (nine-years old) is cute and funny and one of the smartest kids in fourth grade. I have to check Madilyn (six-months old) for batteries. She goes to sleep at 8pm and wakes up an 6:30am." Fairplay takes a moment and smiles again. "Despite telling the greatest lie in Survivor history, my greatest claim to fame is I make pretty babies."